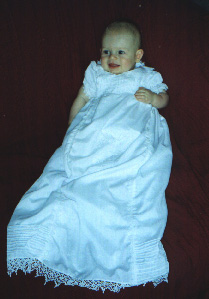 Liam in his christening gown
Liam's christening was held on Boxing Day (December 26, 1999) in the church where his mum and dad were married in 1996.

He wore a christening gown that was made by his maternal grandmother. It has his name and date of birth embroidered on the front panel.

After the ceremony we had a small reception back at our house. We just had leftovers from Xmas dinner and some champagne. The christening cake was the top tier from our wedding cake which had survived after 3 years in storage. It was a quiet gathering as everyone was tired from Xmas festivities.