Photo of our block of land.
It extends from the corner of the road to the little tree in the foreground. It is 17.63m wide and 30m deep.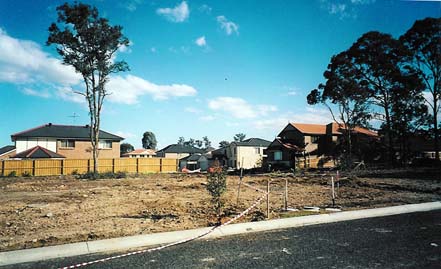 Same block, slight different angle.
The big gum tree is situated where the dining room will be and so it will be removed.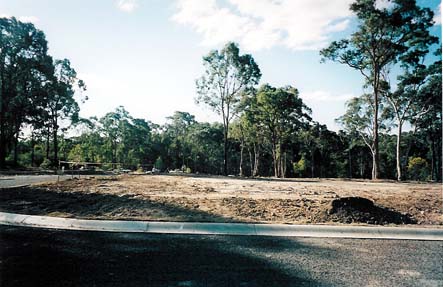 View from the front of our property across the street.
A park will be built at the end of the road on the left where you can see a line of trees.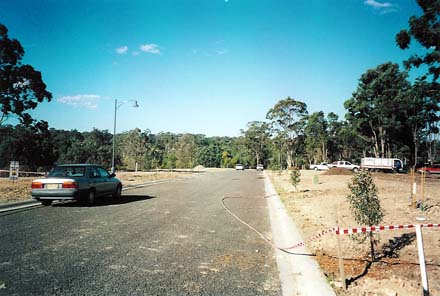 View from the road in front our property down our street.
That's our car on the left.

A view down Small's Creek Way which is the street on the next corner (where the lamp-post is in the previous photo). The line of trees at the bottom of the street is where Small's Creek is situated. This is classified as a trunk drainage reserve and so it can never be built on,hopefully the trees will remain. The park will back on to this reserve.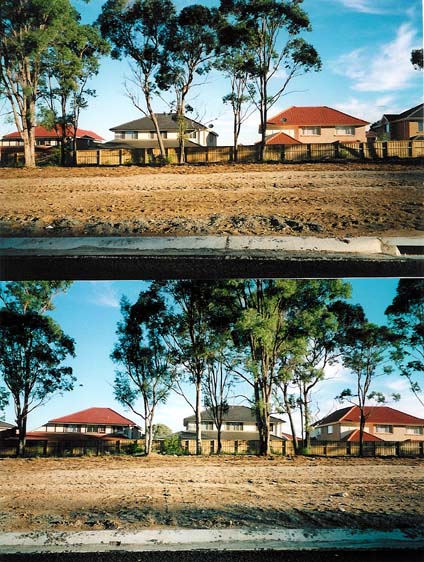 The blocks that got away!
We had originally reserved one of these two blocks only to find that someone had bought it 10 mins before us.
So we picked the block next door (in front of the red-roofed house on the left) but due to a mix-up at the land developers who soold the same block twice we had to choose yet another block and picked the corner one.

We also looked at some blocks of land in another part of Kellyville called The Outlook.
This is an old farm that backs on to the country club but it isn't as nice as Guardian Grove!!